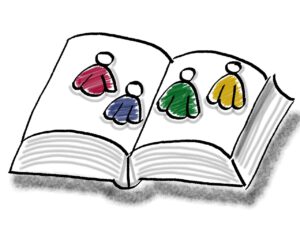 Learning from actual observations in comparison to the visions and goals
Have learning objectives and priorities been defined at the different organizational levels?
Do you regularly compare the status quo with the learning objectives and business vision?
Are internal factors and preconditions critically reviewed, and are possible obstacles to change being identified?
Lernen
Lernen aus den Beobachtungen im Vergleich zu den Visionen und Zielen
Sind Lernziele und Schwerpunkte auf unterschiedlichen Ebenen definiert?
Erfolgt ein regelmäßiger Soll-Ist-Abgleich zwischen Status-Quo, Lernzielen und Vision der Veränderung wie auch des Unternehmens?
Werden interne Voraussetzungen hinterfragt und Engpässe sowie Hindernisse identifiziert?
Recommended visual tools / empfohlene visuelle Tools:
Business Model Canvas, Value Proposition Canvas, Reality Tree & Context Map, Force Field Analysis
Recommended method / empfohlene Vorgehensweise:
Design Thinking