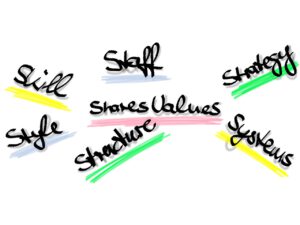 Company and employee culture reflected, for instance, in communication transparency, error handling, or in dealing with change
Are core-company values defined and are they widely observable?
Do core-business values support employees in acting in a self-determined and sensible manner?
Does the company culture support transparent communication and decisions?
Is there an established feedback loop supporting organizational learning and development?
Kultur
Kultur im Unternehmen bzw. unter den Mitarbeitern wie z.B. Transparenz in der Kommunikation, Umgang mit Fehlern oder Umgang mit Veränderungen
Sind Grundwerte im Unternehmen definiert und in der Umsetzung entsprechend weitreichend zu beobachten?
Fördern die Grundwerte selbstbestimmtes und sinnhaftes Handeln jedes Einzelnen?
Unterstützt die Kultur transparente Kommunikation und Entscheidungen?
Ist Feedback, mit dem Ziel des Lernens und der Weiterentwicklung, etabliert?
Recommended visual tools / empfohlene visuelle Tools:
Culture Map